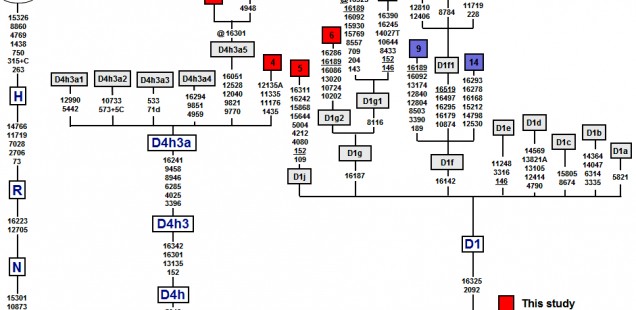 mtDNA CR HVS1 16189
In the new paper on mtDNA lineages in the populations of Patagonia and Tierra del Fuego, de Saint Pierre et al. (2012) published several new D1 sequences from this region of South America. Among them D1g2 and D1g1 are interesting because they are both marked by mutations back to ancestral state at np 16189 (see below).
Neandertals attest to a C at this position. mtDNA phylogeneticists postulate that at the African lineage ancestral to L2, L3, L4 and L6 haplogroups transition C16189T occurred (see below, from PhyloTree).
So for hundreds of thousands of years since the Neandertal-modern human split and for tens of thousands of years since the purported Khoisan-modern human split, this site did not mutate. But then an avalanche of back mutations at 16189 affected a large number of derived lineages, cutting across haplogroup L2, macrohaplogroups M, N and R. In Africa, L2a1b, L2a1i, L2a2'3'4, L2a5, L2d, L4b1, L3b2a, L3d3a, L3e2b and M1 have the back mutation. In West Eurasia, T1, T2f, R0a1b, HV1b2, H1a6, H1b, H1c3b, H1ap1, H3av, U1a'c, U5a1d2a, U5b1a, U5b2a, U5b2a1a (double back mutation), U5b2b4, U6a1a, U6a2, U6c, U2d, U2e, U4d2, U8b1, K1a2a1, K1b1a1b, K1e1, K2a8, N1a1a1a, I1a1d. In Asia, M2b, M3c1, M38b, M37e, M45, M5a3b, M7a1a2, M7b2, M8a2a, M13a, M53, M75, M41a, M27a, M29, M35c, M42b, M47, M76, M77, M80, C4c1b, C7a2, Z4a, G2a1c, G2a1d2 (double back mutation), G3a2, D4b2a2a, D4b2b2c, D4e4a1, D5, F1b, R11'B6, R30b1, R31b, N3, N9a5, N9b, Y1a, N10a, N11a1, A4b, A7, X, X2e1. In America C1b4, D1a1, D1g2, D1g1, A2e. This site is considered hypervariable but it is unclear why there is a need to postulate the original C16189T transition at the root of L2'L3'L4'L6 instead of treating all the "back mutations" to the ancestral state found everywhere around the globe, on all possible lineages as retentions from the Neandertal-modern human nexus. Just like L0 and L1 lineages are.
Earlier, I asked a similar question about 9bp deletion, which displays similar behavior to C16189T, is also found on closely related lineages (e.g., B4'B5 and R11'B6) and, incidentally, occurs in tandem with ancestral C16189 in Africa, West Eurasia, Southeast Asia and America. While existing Neandertal sequences do not have 9bp deletion, there are too few archaic sequences available to ascertain that archaic hominins were monomorphic here.